Specialist Air Quality Monitoring for 'The STOVE Project'
13 Jul 2017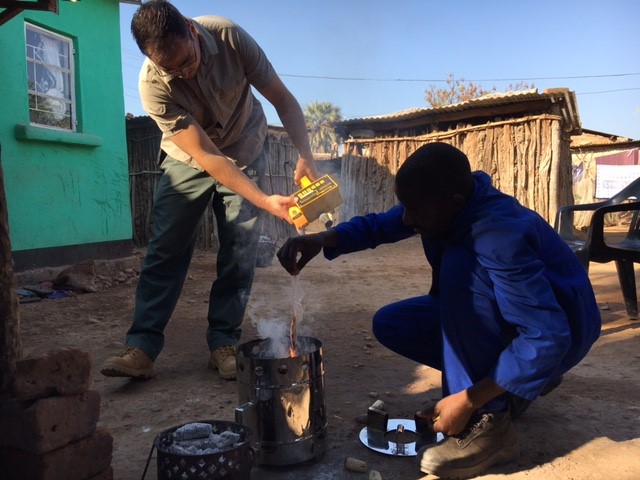 a traditional three-stone open fire with a wood or charcoal fuel source.
One of the most notable impacts of traditional cooking methods is on health, an estimated 600,000 lives are lost each year in sub-Saharan Africa due to exposure to smoke from cooking. The World Health Organisation ranks indoor smoke pollution from cooking as a top 10 risk factor for the global burden of disease, disproportionately impacting the lives of women and children who are most likely to be present during cooking.
Barry Roberts one of WKC Group's leading specialists has volunteered his time to the
Musangu Foundation to carry out some much needed testing of the clean energy multi-fuel cook stoves that are being used in the study. Barry has been out in Zambia travelling to several locations monitoring for particulate (PM2.5&PM10) and carbon monoxide (CO) on a range of cooking methods and fuels. He has also been monitoring at the various cooking phases from lighting the stove, 'steady-state' during cooking through to the end burn.
Once the results are in, we The second phase of 'The STOVE Project' is under way with the help of our friends at WKC Group (www.wkcgroup.com) who are a specialist consultancy on air quality. 'The STOVE Project' began back in March 2017 and saw the distribution of 100 clean energy multi-fuel cook stoves to rural communities, over 2 locations in Southern Zambia. The study was introduced to getter a better understanding of cooking habits in rural communities and to trail alternative cooking methods and fuel sources. Commonly Zambian families in rural communities cook usingwill be able to make evaluations between the traditional method vs the clean energy multi-fuel cook stove. We will also gain a better understanding of the implications the fuel source used for cooking can have on health, and the effect the different stages of the burning process has on those in the cooking environment. These finding will help us to address cooking issues and disseminate information to the rural communities to help them make better choices and decisions around their health and the health of their families.
The Musangu Foundation would like to thanks WKC Group for their support with special thanks to Barry Roberts for his generous time, commitment and contribution to helping us advance the project.
To find out more please visit www.musangufoundation.org
Share Article